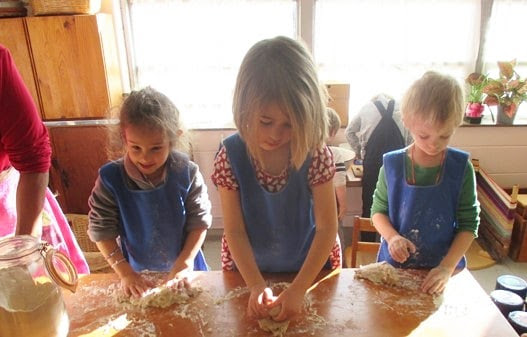 A Waldorf Alumni Perspective
One of the the things I've been most looking forward to diving into within Waldorf education is the global movement. How in one hundred years, has Waldorf Education spread to one thousand schools in sixty countries? How can teachers, communities, and parents, create the same kind of consistent, naturing, environment that a Waldorf school needs to provide? I really thought about how to approach this post. In the end I decided to take a slightly different route than I have before. This week, I'm so fortunate to have some other "Waldorfy" alumni on board for a more diverse perspective.
Here's what they have to say.
Which Waldorf school did you attend? How old were you when you started? What year did you graduate grade 12?
Leanna: I went to preschool when I was 2.5 at De Driestroom (@dedriestroomwaldorfschool) in Den Bosch, the Netherlands and stayed there until grade 6. Then I continued my secondary education (year 7-12) at Karel de Grote College in Nijmegen, a 30-minute train ride away, from which I graduated in 2013.
Hannah: Pine hill Waldorf school in Wilton NH age 5 or 6 to 12. San Francisco Waldorf school ages 13-18. Graduated in 2006.
Ezra: I went to the Seattle Waldorf school in Seattle Washington. I was with my mom when she was teaching Waldorf preschool so... since I was born, until I graduated 12th grade in 2012.
How did you feel about your experience as Waldorf student? How do you feel it prepared you for the world as an adult?
Leanna: I enjoyed school very much as a child. I had a fantastic teacher that stayed with us from grades 1-6. I loved learning, and I especially enjoyed the main lessons about history, geography, botany, but also creating our own plays, doing projects, celebrating the seasons, and making my own musical instruments and toys. The transition to secondary education was a bit difficult for me. I was placed in a class with 32 kids with a wide range of different cognitive capacities, including some behavioural problems as well, and some teachers had a hard time to differentiate between all of us. I didn't feel at home at school and I was on the verge of leaving.  Though the first few years were very difficult for me, years 10-12 were a lot of fun. I have made lifelong friends and I've even come back to my high school to do an internship as a student coach which I really enjoy. The transition from year 12 to university went smoothly, though I did miss the creativity and social interaction. I remember that my tutor was very surprised when I came up to her to shake hands and introduce myself at the beginning of a course. For me it was the most normal thing to do, but they weren't used to it.
Hannah: I loved my experience in Waldorf. I chose to continue on in high school instead of switching to a new school after graduating 8th grade. I don't know if I would have chosen that if I had been in a rural setting, however. It did feel like the high school was small (110-ish students) but being in a city like San Francisco allowed me to feel socially satisfied. I felt prepared for adult life for the most part. I was nervous to go to a large university but the transition was pretty seamless.
Ezra: I did enjoy my Waldorf education as a whole. There are parts of it that I wish had been different. For instance, in the lower grades, my main lesson teacher was not the best at helping me learn how to reading and writing.  Because of this, reading and writing have always been something that I'm self-conscious about. On the other hand, I believe that Waldorf school does a very good job of giving you the mentality as a person to be able to eventually overcome those obstacles that you face as an adult.
I think the most important thing that Waldorf taught me was that you aren't good at everything. Some things come easy to you and some things take a lot longer to get the hang of. Throughout my Waldorf career, I had to do everything from math, writing and languages to woodwork, throwing a javelin and building a pizza oven. You see that your peers excel at some things and have trouble with others. Maybe I can help my friend to carve a spoon and she can help me write a paper. I think that if I had gone to a normal school I would have felt that I was terrible at everything having to do with school, and by proxy life. But the Waldorf school showed me that there are other things than just the academic side of life, and that these skills have value. This gave me self-worth, and it gave me the strength to work on the things that don't come so naturally to me.
I believe that Waldorf fuels curiosity and creativity.
What was your favorite aspect of your Waldorf experience?
Leanna: As a student, I valued the warm and open atmosphere at school. I felt free to be myself. As an adult, I would say it is the holistic approach to the development of the child that I find really unique and inspiring. It's the whole child that matters, not just a test score.
Hannah: Looking back on my experience my favorite aspect of my Waldorf education was the dynamic way that we were allowed to learn as kids. We were taught concepts and lessons through movement and play. Looking back that sticks out as an all encompassing memory that allowed me to fully enjoy school.
Ezra: I love that you have to do everything in Waldorf.
I loved the class trips. To have the opportunity to go on two-week long class trips per year was awesome!
What was your least favorite aspect of your Waldorf experience?Do you feel there were any aspects of your Waldorf education where there was a gap? Something that either was never covered, or left you feeling unprepared for higher education or life as an adult?
Leanna: I've only recently realized this, but our sexual education was really problematic, in the sense that it occurred way too late (10th grade!) and the content was way too simple. A course on sexual education at the University of Amsterdam opened my eyes on the importance of awareness around this topic, not only the typical sex ed part, but also the issues of stereotypes, body confidence, consent/boundaries, gender equality, inclusiveness etc. After I finished the course, I emailed my former headmaster and asked her about how this was placed in the curriculum. Luckily, they had made some reforms and it is now a well-covered subject. But I think it still needs more awareness. Recently I came across a thread of comments from American Waldorf students saying they had become very insecure about themselves and their bodies due to a very strict dress code and the way teachers had made inappropriate–even sexist–comments. That shouldn't be happening at any school. I would love to see this topic getting a higher priority within Waldorf schools and education in general!
Hannah: I don't feel like there are any glaring gaps in my education. The one thing I maybe feel is I didn't receive a holistic sex education but that might be a problem in many different educational philosophies. One of the issues I think is that schools are really only as good as their teachers, and if a school is rural or small, that can cause some gaps maybe from lack of resources. Sometimes I believe Waldorf schools can be too insular and protective of kids when they need to be branching out and growing as adolescents. I think they create wonderful loving environments for young children but might lack in guiding navigation of the wider world for tweens. But this might have changed since the late 90s early 2000s and the world is also a very different place now and I can't imagine schools haven't adapted to that.
Ezra: I think one thing that I still don't fully understand is Eurythmy. I think that it still has a place in the lower grades. But why not make it an elective in high school? And offer other types of beautiful conscious movement styles instead, such as Tai Chi, or types of ballroom dancing, fencing, Ballet, hip hop? I could go on.
This ties into my next problem. I love that Waldorf tries to keep TVs, phones and computers out of children's lives when they're young. But let's face it, once you are sixteen you need to know how to use the computer, as well as how to navigate social media and all the bullshit that comes with that. I think if you don't show children how to use the internet responsibly, then you are not fully educating them for the world that they're about to enter.
If you have children, or if you had children in the future, would you send them to a Waldorf School? Why or why not?
Leanna: It would definitely be my first school of choice. However, I would always go visit and meet the teachers and staff before enrolling my children anywhere. Every school is different and it has to feel right. I'm also very interested in Montessori, Charlotte Mason, and humanistic/democratic education, of which the latter are very much on the rise in the Netherlands. But drawing from my own experience I believe Waldorf would be the right fit. We'll see!
Hannah: I would without a doubt send my child to a Waldorf school to start but it would also depend on the school we would have access to. I would also want to reevaluate each year as the child grew and see if the school was meeting their needs but this also seems like something you would do with any individual in any educational system.
Ezra: Honestly, kids aren't really on my radar as of yet. But I believe the chances are very high that I would send them to a Waldorf school.
I had an interesting talk with a friend of mine who went to Waldorf school in Switzerland and both his parents are Waldorf teachers (like mine). I asked him if he would without a doubt send his children to a Waldorf school, and he said he wasn't sure. His experience was that he lived in a village where there was just a normal school and no Waldorf school. So he had to go to the next town to go to school. He felt that he was never able to connect with the community of kids in his town because he didn't go to the school in his town. This was really hard for him. He also said that normal Swiss school are some of the best in the world. So, why not send his child to a great Swiss school where she or he can be a part of the community where she or he lives?
It made me realize that it might be interesting when and if I have children to look around and see what else is out there besides Waldorf. Maybe it will further convince me that Waldorf is the perfect place for a child to grow up. Or it might make me think twice about it.
~
I have seen some criticism out there that Waldorf students are some how indoctrinated into anthroposophy. These three perspectives had me thinking quite the opposite. I felt these were three critically free thinking adults sharing their experience.
I hope to find more alumni to ask about their experience. Are you an alum or know one? Let's connect! You can reach me at [email protected].
You can find the alumni I spoke with for this piece on instagram at:
Leanna: @waldorfeducation
Hannah: @hannahbeach
Ezra: @ezraweill
Specail thanks to the Richmond Waldorf School for allowing me to share this photo.