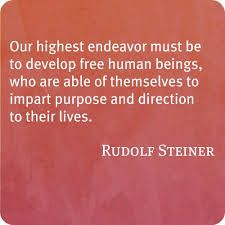 Affordability and Waldorf Education
Ok, we have to talk about it. Waldorf school is expensive. For most families it's really expensive. When I first started writing this post it was a from a very woeful place. I was thinking of how tough it is to be a good parent. How a parent might stumble on Waldorf education and find it a really good fit for their family. One might even find a Waldorf school in their area, go through the beautiful website, to find the tuition page, then, sticker shock. Why? Because this is America and the cost of a private education isn't cheap. That's how these institutions stay running. They collect tuition, cover their costs, then work to cover as much financial aid as they can. So how can we approach affordability and Waldorf education? I really hope to shed a more positive light on something that can otherwise seem like an insurmountable obstacle of sending your child to any independent educational institution. These schools have to charge, parents have to pay, but how can schools, community, and parents contribute to a thriving, diverse, and enriching environment for all kids to learn?
The way I set out to get more clarity on affordability and Waldorf education was speaking directly with a Waldorf School. I spoke with Ryder Daniels, president of the board of trustees at High Mowing School, the school I went to as a kid on the Pine Hill campus, and it was a really eye-opening conversation. I started out by asking what the tuition to attend Pine Hill is now, and mentioned that I couldn't find it on their tuition page. Ryder said, "That's intentional." It was a change made by the school half way through this school year. Why? Almost 99% of their website traffic was exiting the site through the tuition page. This is just how I had been feeling, sticker shock. In Ryder's view, on a big purchase like a car or a house, you almost never pay MSRP, and that's what's largely going on at the school. It didn't make sense anymore for the school to post a tuition, because lots of families just weren't paying that. High Mowing is giving $2.7 million in financial aid a year K-12! Ryder told me the school has changed a lot in how it handles financial aid. When my husband and I attended Pine Hill some twenty years ago, financial aid was distributed on a need basis that was evaluated by a committee of community individuals at Pine Hill. Things are very different now. "The way it works now," Ryder tells me, "we use a system called School and Student Services, or SSS. Basically parents pay a small fee, fill out one form, include financial info like W2s and tax returns, and this third party system does the objective evaluation of what that family can afford to pay. Plus all the financial info is kept private. Then the school works with the family to make a payment plan that works for them." This process makes the thought of sending my son to Waldorf school much more approachable and less intimidating. Ryder says, "That's the idea," and I get it. Waldorf education is something you really should see in action. To see a number on a web page shouldn't be what makes people disinterested in Waldorf education.
Then there's a bigger issue here: How to make it possible for any child to attend a Waldorf school, regardless of their ability to pay. From speaking with Ryder and other Waldorf school administrators, this is something all schools are striving for. Going back to its roots, Waldorf education was founded in the name of social justice. Rudolf Steiner had four conditions for working with factory owner Emil Molt to create the first Waldorf school. The most important was that everybody (all of the factory workers' children, no matter their parents' position in the factory) could attend. I think this is the aspect of the affordability conversation that I am most interested in. Because yes, I feel a little guilty that I'm considering a private education for my son. My discussion with Ryder about this did make me feel a lot better about it. He has some really great ideas and programs started to help the school in the area of diversity and to generate more funds to be able to award more financial aid. For example, High Mowing now brings in boarding students for middle school immersion programs on the Pine Hill campus, so far just from China, in the sixth through eighth grades. Pine Hill has renovated an area on campus into dorms for these students to stay and attend the school. The results have been pretty powerful. My husband and I were at the school for a holiday fair where we saw the immersion students saying goodbye to their local student peers and teachers in tears, sad to leave and go home. For the local Pine Hill kids it's also been great. They're going to a private school in a very small town, in the fourth least racially diverse state in the country. Especially considering our current geopolitical situation with China, it's neat that these kids are getting a chance to learn about one another, gain understanding and empathy for one another through this holistic and connective experiential learning experience. Just another example of the Waldorf approach lending itself to the situation at hand. Ryder's point is that this isn't just for financial gain for the school, the kids are benefiting tremendously from this rich experience of diversity. It's innovative strategies like this that can further the school's ability to eventually achieve their goal of never having to turn a student down on a financial basis alone.
The community around the school can do a lot too. Waldorf schools are a very culturally rich thing within a community, often bringing in musical groups, holding lectures, and putting on performances featuring the students themselves. These performances range from small in-classroom plays in the lowest grades where only the parents are invited to attend, all the way up to concerts featuring an orchestra or choir, to Shakespearian dramas, and even circus shows. These are wonderful opportunities for the community that surrounds a Waldorf school to visit and enjoy what the school has to offer. Perhaps in their enjoyment they feel inspired to donate to the school in hopes to continue this arts-enriched educational approach for as many children as possible. In addition, the school community includes alumni who can also help give back. As an alumna who graduated in the early 2000s, I know that until I reached back out to my school, they had no updated contact info for me. I was 14 when I left, so I didn't even have an e-mail at that point. I think the task of keeping in touch needs to fall a little more on the alumni, especially those that graduated before keeping an email contact list was really a thing. If you're an alum who had a great experience attending a Waldorf school, now is the time to make a difference to make sure that kids can have that experience for years to come. Giving back to the school will help them to get into the financial position to really reach the economic diversity in the student body they want to achieve. If you can't contribute financially, consider giving back in other ways. Share your experience. Write a review. Ryder tells me word of mouth is still the number one way people are hearing about Waldorf education. Let's get the word out there about what this is really about!
Let's come back to the question of how parents can move forward with the issue of affordability. If you're a parent interested in a Waldorf school for your child, if you've decided it's something you really want to pursue, don't let the sticker shock hold you back. In writing this post I asked my mom, "How did you manage to get three of us through Waldorf School financially?" She answered, "It wasn't easy. Sometimes it was stressful, not knowing where next year's tuition was going to come from. It definitely made a dent in how much we could save for you three to go to college, but it was so worth it. So many parents would ask us what we were doing different with you three, when observing you in the world, in play, or interacting with other kids. I always knew it was our choice to send you to a Waldorf school. That feeling as a parent, then and now, that you made one really good choice in the life of your children, that to me is priceless."
And remember, from the school's perspective, they want to work with you, they want to make this choice a possibility for you. According to Ryder, after families make it through the process of applying, using the School and Student Services form, and working with the school on a payment plan that works for them, there are really very few that aren't able to enroll.
Ultimately, from what I've learned about Waldorf education, it's about removing hindrances from the child's path. This is to ensure they can become their best selves and live into their full potential. This is what we need to do now to see these schools thrive. Schools need to try innovative ideas in school governance and financial strategy, communities and alumni need to give back however we can, and parents need to not be afraid to approach a school even if they think they can't afford it. It's not one person's job to solve the issue of affordability in Waldorf education. It's on all of us.